And excerpt from COURTING DANGER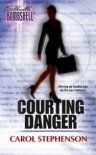 I'm a hired gun.
Not the blazing bullets kind...the legal kind.
After all, attorneys are the only publicly sanctioned form of revenge and payback our society allows. If someone damages your car or hikes your rent, instead of stringing him or her from the nearest tree, you go to court and duke it out.
However, if you do decide to take matters into your own hands or otherwise flaunt the laws of our country, you'll still need someone like me: Katherine Rochelle, criminal defense attorney, the ultimate in legal weapons.

We can be found in the yellow pages; you can't miss the ads with the pictures and bold assurances of our qualifications to defend you. If we appear to be larger than life, we have to be, for you are placing your life in our hands.
What you don't realize is that behind our serious demeanors, diplomas and certifications are individuals as flawed as you are. My brethren drink, gamble, lie, cheat and steal. They fight with their spouses and raise kids who land in trouble.
For some that's a dollar sign above their heads, not a halo, having sold out their ethics for the almighty buck or other glory.
For others, like me, the struggle to keep our principles and honor intact as we fight for justice leaves our armor dented and tarnished. Sometimes we needed crutches, like the kind I had now.
© 2005 Carol Stephenson