MARCH 2012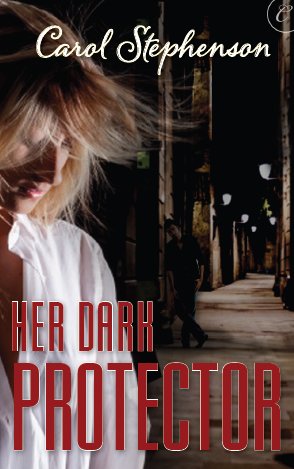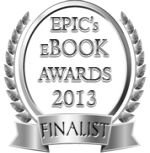 HER DARK PROTECTOR
Justice Hunters series

Florida state prosecutor Gail Malloy may have a death wish, but she has no idea how close she is to having it fulfilled. In charge of the case against a notorious drug lord, she's become the target of everyone on the man's payroll—and corruption has permeated the highest ranks. Fortunately for Gail, a stranger is keeping watch...
Haunted by tragedy and seeking revenge, business tycoon Jason Hawke joined the Justice Hunters, a secret organization dedicated to maintaining law and order. He'll do everything in his power to make sure Gail stays alive long enough to put the crime boss away for good. Even if it means keeping her with him day and night...
READ AN EXCERPT
READ THE REVIEWS
ASIN: B0070Y35EC



from Carol Stephenson and Carina Press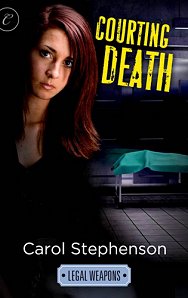 COURTING DEATH
May 2011
After watching a murderer walk free on a technicality, Nicole Sterling left the state attorney's office to start a criminal law practice. She lets her partners handle the assault and murder files while she specializes in white-collar crime. With her own mother's life slowly slipping away before her eyes, Nicole has had about all she can take of death.
But when a client is accused of killing her own baby, Nicole is drawn in to the case. Also looking for answers is Detective Sam Bowie, a man as infuriating as he is sexy. Sparks fly between them, but the last thing Nicole has room in her life for is a romantic entanglement.
Their investigation reveals that Nicole's client could be just one of many innocent victims of a horrific conspiracy. Now, she must put her own life on the line to uncover the truth—and risk her heart—if she's to have a future with Sam.
ISBN: 978-14268-9155-7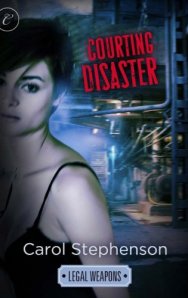 COURTING DISASTER
April 2011
She's Gone Too Far…
A year ago, criminal defense attorney Carling Dent woke up in a conference room with a bullet wound, a murdered client and no memory of what happened. Since then, she's grown reckless. She's gained a reputation for representing defendants no one else will, and her own partners are beginning to question her conduct.
Then a car accident triggers flashbacks, and Carling is driven by the need to find out what really happened that day. Her investigation begins to uncover a twisted web of secrets someone doesn't want exposed. The threats against Carling escalate, and she turns to the one person she wants to trust—her former lover, prosecutor Jared Manning. The passion between them is as hot as ever, but when more memories start trickling back, Carling starts to wonder just whose side the man she loves is on…
ISBN: 978-14268-9137-3
"Courting Disaster is jam-packed with suspense and page-turning tension."
— Romantic Times


"Chasing the Truth"
What He Didn't Say
with "Cornered" by Maggie Price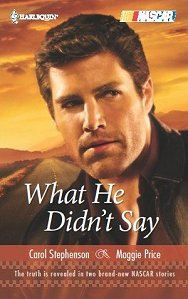 As an assistant on a powerful racing team, Emma-Lee Dalton wants to prove herself in the thrill-a-minute NASCAR world—and impress Holt Forrester, the man she can't stop thinking about. But when she gives Holt the inside track, unaware of his real agenda, she falls hard and fast for him. Now she needs her billionaire boyfriend to admit the truth about everything—including how he feels about her.
Harlequin Nascar®
August 2010
ISBN 10: 0373185375
ISBN 13: 978-0373185375
Shadow Lines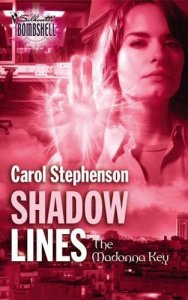 With her healing gift and extra senses going haywire, epidemiologist Eve St. Giles knew the deadly flu outbreak in the small Swiss town was no natural disaster. Had someone manufactured a virus--one that targeted women? If Eve didn't track down the origin, millions could die.
She could search alone, or accept help from a questionable source--the man she'd loved and lost. Nick Petter seemed to know more than he was telling. Yet Eve had little choice but to trust him as she raced to harness ancient healing rites in time to avert a modern medical apocalypse...
October 2006
ASIN: B000MAHAXI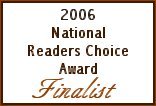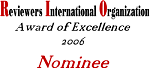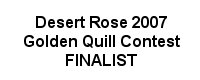 Part of THE MADONNA KEY, a 7-book miniseries
from Silhouette Bombshell®
The Marian Priestesses were destroyed long ago, but their daughters live on. The time has come for the heiresses to learn of their legacy, to unite the pieces of a powerful mosaic and bring light to a secret their ancestors died to protect.
Read an Excerpt from Shadow Lines
"Secrets are revealed, and even more mysteries are introduced, which catapult readers through a fascinating adventure ride. Shadow Lines by Carol Stephenson will grab you by the throat and provide many pulse pounding moments of excitement until the conclusion is reached. "

© Kelley A. Hartsell, August 2006. All rights reserved.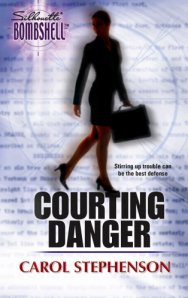 SHE'S A HIRED GUN.
NOT THE BLAZING GUNS KIND—THE LEGAL KIND.
Criminal defense attorney Katherine Rochelle is back in the saddle, so to speak. After a scandal at her last job, she's determined to redeem her family name. Being born into Palm Beach's elite means Kate has the money to create her own law firm, but now she has to prove she has the brains to make it work. Her first case: to defend a friend accused of murder.
Her old debutante skills and social connections may help her make her case, but when Kate's life is threatened, she realizes that the truth hits close to home. Now Kate's got to shake things up and flush out the killer before someone decides the defense should rest in peace.
Read about the restoration of the real Palm Beach County Courthouse
Silhouette Bombshell™
July 2005

ASIN: B003M69S6G (Available May 24, 2010)
Nora's Pride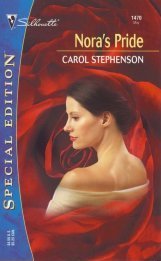 Winner of two 2003 National Readers' Choice Awards
Best Long Contemporary and Best First Book
CONNOR WAS THE ONLY MAN SHE'D EVER LOVED...
And he'd crushed her heart into a thousand painful pieces when he'd left town without a backward glance. Thoughts of Connor Devlin filled Nora McCall with hot fury--even hotter than the passion that had engulfed them both during their one night together. A night that left Nora with a lifetime of memories...and a daughter.
AND NOW HE WAS BACK.
For twelve long years, Connor had needed, craved, longed for raven-haired Nora McCall--and cursed the great sacrifice he'd made in order to save her family. Now he had returned to face his demons and fight for Nora's love. But Connor hadn't expected to face the shock of his life--a lovely young girl who called him Dad!

Silhouette Special Edition® #1470
May 2002